Listen
09 - Le Temps Passe - Didjelirium feat. Esia.
09 - Le Temps Passe - Didjelirium feat. Esia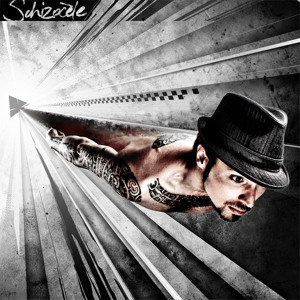 Qrcode
Description
This is the first 'rapstep' album from Didjelirium, finally available full length ! 100% homemade with his selves, it tells, in french, stories of various people living in his head and facing the true problems of our world : identity, meat-sticks and love for little insignificant things. Though the use of frog language will shock most of you, you might consider enjoying the music for what it is : music. Also, shut the fuck up ! Didjelirium is proud to offer you the whole album for free, so download it and spread it faster than a STD in a spring break camp ! For more info, visit www.didjelirium.com Bless ! LYRICS : Le Temps passe COUPLET DIDJELIRIUM Il y a des jours ou le monde veut fuir, il cherche a disparaitre, Il se déguise dans les immeubles, il nous voit vivre par les fenêtres, Il se cache, il court, parfois fais signe dans le lointain D'un simple nuage de fumée, caméra autour du cou, flash a la main Dans ces cas-la je me lève d'une traite, un coup d'eau froide sur le visage pour me réveiller, Je trébuche sur mon pantalon parce que j'ai pas l'habitude de m'habiller J'ai grandi en short, bien au chaud, sur une ile, eh ouais ! Vous m'en voyez désolé si je n'ai pas eu une enfance difficile Ceci explique sans doute pourquoi j'ai des racines de cocotier Je peux me laisser flotter pendant des mois je resterai entier, pour me planter Il suffit que je me pose dans un coin paisible, au bord de la mer si possible, J'ai besoin de ces forces invisibles, comme celle-ci Celle qui me pousse a bouger encore et encore A toujours quitter mon confort pour mieux renouveler le décor Ce besoin irrépressible de partir voir ailleurs peu importe ce qu'il s'y trouve ou le bonheur ou le malheur, moi je n'aspire qu'au meilleur Je panique souvent a l'idée des choses qu'il me reste a voir, Je balance tour a tour entre un profond désespoir Et la crainte qu'a force de tout quitter il ne me reste rien Je sais que c'est un risque a prendre et sache que je le risque au quotidien. REFRAIN Le Temps passe et les passe-temps sont changés, La cloche sonne et les fleches sifflent au danger, J'ai pas l'temps, pas l'courage de prendre un passager Même si je ne poste pas de message, je sais que les pensées sont partagées ; Le Temps passe et les passants ont changé L'air frissonne et les flèches n'ont rien vengé J'ai pas l'temps pour des paysages aux horizons ravagés Je passe peut être pour un mirage, quand vous me voyez j'ai déjà dégagé.