Listen
blnd! - 1997 started on a Wednesday - Speed Garage Mix.
blnd! - 1997 started on a Wednesday - Speed Garage Mix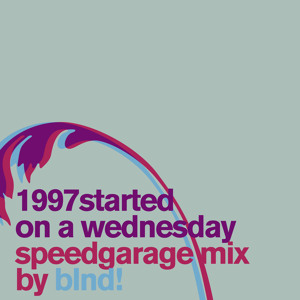 Qrcode
Description
01. blnd! - Intro 02. Tori Amos - Professional Widow (Armands Star Trunk Funkin Mix) [1995] 03. Praxis Feat. Kathy Brown - Turn Me Out (Turn To Sugar) (Sol Brothers Turn To Sugar Remix) [1997] 04. Divine Soul - Shake That Ass!! (Black And White Party) [1998] 05. Freefall - Tears (Inferno Mix) [1998] 06. Janet - Got 'Till It's Gone (Armand Van Helden Speedy Garagez Mix) [1997] 07. R.I.P. Productions - Jump To It (Andy Mowat Remix) [1997] 08. Michael King - Renegade Bass (with DJ Ride) [1997] 09. Sneaker Pimps - Spin Spin Sugar (Armand's Dark Garage Remix) [1996] 10. 187 Lockdown - The Don [1998] 11. Andy & The Lamboy - The Inside feat Michelle Weeks (Sol Brothers Mash-Up Dub) [1998] 12. Les Indiscretes - Mob Hunter [1998] 13. Ruff Driverz - Deeper Love (Ruff Driverz Ruff Mix) [1998] 14. Serious Danger - Deeper feat Sarjant D (7" Edit) [1997] 15. Sub Kutz - It's The Way (Mix 1) [1998] 16. DSK – What Would We Do? (Sol Brothers Soundclash Remix) [1997] 17. Ce Ce Peniston - Finally (Shaun Banger Scott Speed Garage Rmx) [1997] 18. blnd! - Outro ---------------- 1997: Bill Clinton's second term; the Sandline affair in Papua New Guinea; Dolly the first cloned sheep; Phoenix Lights; The English Patient wins Best Picture; Comet Hale–Bopp; village massacres in Algeria; the first space burial; Tony Blair's landslide victory; Netflix is established; mass suicide of 39 members of the Heaven's Gate cult; the Chemical Weapons Convention enters into force; Deep Blue, a computer beats Garry Kasparov; the reformist Mohammad Khatami wins the Iranian presidential elections; Winamp is released; Carlos the Jackal is caught and sentenced to life; first commercial spy satellite is launched; Harry Potter and the Philosopher's Stone is published; Fire kills 300 pilgrims outside Mecca; Asian financial crisis; 62 people are killed by Islamic militants in Luxor, Egypt; Hong Kong is handed back to China; Pathfinder lands on the surface of Mars; Steve Jobs returns to Apple; Diane Blood wins right to use her dead husband's sperm; mass flooding in Europe; the Chirac–Jospin cohabitation in France; Dow Jones Industrial Average closes above 7,000 for the first time; North Hollywood shootout; Jeanne Calment, the oldest person ever, dies at age 122 years 164 days; Korean Air Flight 801 crash lands, 228 deaths; South Park debuts on Comedy Channel; Wales and Scotland moves towards devolution; car bombing in Mostar, Bosnia and Herzegovina by al-Qaeda; IEEE introduces 802.11 the wireless network standard; Kyoto Protocol is adopted; Garuda Indonesia Flight 152 crash kills 235 people; Timothy McVeigh is sentenced to death for the Oklahoma City bombing; Chechnya peace treaty; Iraq disarmament crisis; Microsoft acquires Hotmail; Bobbi McCaughey gives birth to world's first surviving set of septuplets; Mine Ban Treaty is adopted; facebook.com and craigslist.com comes online; jury finds OJ Simpson Guilty; the capital of Kazakhstan is moved from Almaty to Astana; Hebron Agreement; Khmer Rouge leader Pol Pot is arrested and sentenced to life under house arrest; Thredbo landslide; Rebellion in Zaire ousts President Mobutu; NATO invites Poland, Czech Republic and Hungary to join; Tornadoes in Arkansas, Ohio, and Kentucky; the Dennō Senshi Porygon episode of Pokemon causes epileptic seizures; Titanic premiers; Taliban captures Kabul; Chloë Grace Moretz and Maisie Williams is born; Roy Lichtenstein, Toshiro Mifune, Diana, Princess of Wales, Gianni Versace, Allan Ginsberg, Jacques Cousteau, Anton LaVey, William S. Burroughs, Notorious B.I.G., Fela Kuti, Mother Teresa, Nusrat Fateh Ali Khan, Bảo Đại, the last emperor of Vietnam dies.