Listen
Black Tiger Sex Machine - Destroy It EP (Preview Mix) | OUT NOW.
Black Tiger Sex Machine - Destroy It EP (Preview Mix) | OUT NOW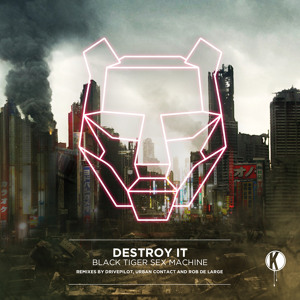 Qrcode
Description
"Destroy It" EP available now on Beatport: http://bit.ly/DestroyIt Follow Black Tiger Sex Machine: www.facebook.com/official.btsm While scouring the wastes of North America for traces of the evil Dr Kannibalen, Black Tiger Sex Machine detect a strange radio signal coming from a nearby abandoned village. Suspecting that this may have something to do with the Kannibalen plague, they decide to investigate, bringing along their team of goth girl punk warriors, Studs, Spikes and Blood. Their entry into the deserted city is unchallenged, but once in the center, they start hearing ominous groans, as hundreds of ravenous zombies begin shambling out of the surrounding buildings. Realizing they have been caught in a trap, our heroes are left with one option: they must fight for their survival. Time to Destroy! Destroy It is a new EP by Black Tiger Sex Machine. The title track is a straightforward big-room electro house banger. The second track on the EP is a collaboration with Kai Wachi: the aptly-named "Tribal Gangs" is a punishing electro trash track with pounding tribal drums and over-saturated synths. The EP also features three remixes of "Destroy It". Canadian electro star Drivepilot manages to make the original even more intense, throwing dark string sections onto the main drop synth, intercutting alternate distorted basslines, and dropping seriously epic chords into the breakdowns. Austrian duo Urban Contact turn out an upbeat complextro remix that keeps things interesting with some expertly produced instrumental sections. L.A. based producer Rob De Large rounds out the trio of remixes with a nightmarish 111 bpm techno version.