Listen
DIDJELIRIUM - TIME WITHOUT WAR.
DIDJELIRIUM - TIME WITHOUT WAR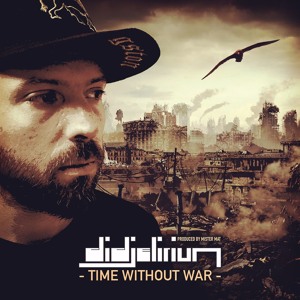 Qrcode
Description
Didjelirium is preparing an old school hip hop EP, just for the sake of remembering a time when the problems were less explosive and the rappers knew how to read, thus to write. This track is the first single out of an upcoming EP. The upcoming EP will be out soon and for free, because the good words are meant to be shared. Love and blessings to y'all ! Beat by Mister Mat Mixed by Laurent "Maraboo" Longubardo Artwork by Moana / Blackstone Production (www.blackstoneprod.com) Lyrics and Vocals by Didjelirium Time Without War Do you remember a time without war ? That simple question keeps an exhibition Running in my brain and if not for the weed I would have killed myself indeed So much ego out there in need That it seems out of reach To rest a bit To love unconditionally without a tweet Without a post, Who's loved the most ? Who held the knife ? How many followers does it take to make a life Worth it ? I certainly don't know the rules cos i don't play your game Of who's the happy happy one and who's the one the one to blame But everyday, you lie awake while telling them you are okay And then you go to pray to make it fade away... Well, truth is I envy all of you I wish i were still in the cave looking at shadows from your point of view So nice to be pain-free, so good not to see The strings still attached on both you and me But then i saw the sun and it lifted the veil out Where the hell am I supposed to run cos i can't bail out? Yes, it's not easy to see Truth for what it is A healthy individual but said to be full of disease By the one bringing in the real sickness, Dressed up in suits They render you careless By feeding you their soups Served on TV and in your magazines Thanks to Americans and Koreans the world's now ruled by ugly Kim's And I fear for our future Knowing banks own the world while the world think it owes the bankster It's sad, really,and it's just the nitty-gritty Nobody want the details cos trust me this is far from being pretty It's a greedy society so put your hands up No need to call the police cos there's no bigger thief than a cop, Working for those on top to steal your freedom and your unity. Mmmh... Think it's random we got no free energy ? No, think well about it twice, how could they be so rich Without using you and me and the whole world as their bitch ? Ahah ! It all makes sense when you think about it But it hurts so much so let's forget about it Drink alcohol to feel we dreamt about it And go to work hangovered so no one can doubt it It's hard to keep up with all the double-thinking and, speaking Of blind stupidity, what's with the cult of the compulsive clicking On colourful thumbs to see the numbers blinking ? The world's a statistical hell where counters are shrieking. We're victims of our need for classification Sheep stays with sheep, and nation with nation There's a black and a white and a rich and a poor and they can never have a discussion Cos united we stand so to divide is their mission But this ain't new, This ain't you This ain't me If we could talk we'd never be enemy So it's up to us To fuck the box To set us free It's blood and chains The governments Want to see... Anyway, sorry it came to that kind of consideration after all I write lyrics cos i can't paint a wall But i hope you get the picture If you don't wanna be a pigeon, you better watch out for the vulture Cos the sky's the only place to find a real star. And if you're listening to this while ridin' in your car, I know you forgot the question cos we drifted so far But... Do you remember a time without war?