Listen
Full Premiere: BAAL - Lumen (Original Mix).
Full Premiere: BAAL - Lumen (Original Mix)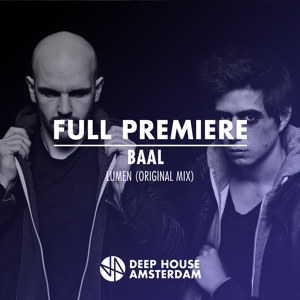 Qrcode
Description
♬ Full Article ♬: http://www.deephouseamsterdam.com/full-premiere-baal-lumen-original-mix One of the most promising new acts coming out of Germany, the fresh taste of deep house and techno on their first EP "Metamorph" earned the duo support by DJs like Solomun, DJ Hell and Tale of Us. This signature sound, as well as their new live show got them the "Munich Act Of The Year" award of the Sueddeutsche Zeitung in 2014 and an invitation to play "Pinakothek der Moderne", one of the most important international museums for modern art and design. ow, Baal are back with a new six track ep, "NOAH". Of it's 6 track unfolding narrative, we exclusively premiere 'Lumen', a track voted number one unreleased track at NSV Worldwide. This one is a driving, haunting number, featuring stabs, echoes, and synths to maximum sensory affect. It is one for dark rooms, late hours, and open minds.