Listen
Marten Roberto Pres. Da Boogie October 2019.
Marten Roberto Pres. Da Boogie October 2019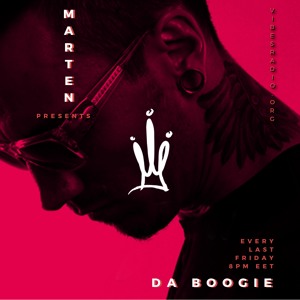 Qrcode
Description
Marten's passion for music starts at the early age of 13 as a hobby, but now he plays an important part on the Bulgarian music/club scene, as one of the most progressive DJs, fusing Funk, Disco, Nu Disco, boogie, broken beat and deep house. He played at most of elite clubs as: Chervilo, Ginger, SofiaLiveClub, Blender, Yalta, Culture Beat, Gramophone, Cacao, Spartacus and many more in the capital Sofia and other cities . Hosting his own show called FUNK THE DISCO in collaboration with DJ ILKO ( 3-o-5 ), every Sunday on radio NOVA ( 13h CET ). FUNK THE DISKO is one of the most appreciated events on the club scene in Sofia. Marten shared a stage with names as: Kraak & Smaak, Smoove, DJ Muggs(Cypress Hill ), Mix Master Mike (Beastie Boys), Snoop Dogg, Soopasoul, Cassius, Plump DJ's, Laura Vane + The Vipertones, Gizelle Smith, Krafty Kuts, Deekline, Herbalizer, DJ Premier, Morcheeba, Stereo MC's, Parov Stelar, Macy Gray, Crazy P, Jazzanova, Incognito, Hot Toddy, Estelle, DJ Spinna, & more.