Listen
VARIOUS ARTISTS - MOTIVATION 808 COMPILATION [PREVIEW, MIXED BY HYDRAULIX].
VARIOUS ARTISTS - MOTIVATION 808 COMPILATION [PREVIEW, MIXED BY HYDRAULIX]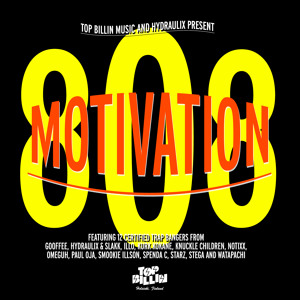 Qrcode
Description
BUY EXCLUSIVELY: topbillinmusic.bandcamp.com/album/motivation-808 Top Billin Music & Hydraulix present: Motivation 808 (insert trap pun here) When we started to design our first trap compilation, the idea was clear: to have the compilation to represent the sound in trap close to our hearts aka influences from Atlanta trap, big 808's, smoother dubstep, g-funk and even ghetto house. But if you know us and where we come from, this should not come as a surprise. We were also lucky to work on the compilation with our friend and true believer in 808-based music, Hydraulix. Hydraulix is a guy who likes his tunes energetic and bass heavy, both djing and producing, so he was the perfect collaborator to work with on this compilation. The people we invited to take part in this compilation are all well aware of their sound. Some names you might know, some you may not, but there's a big scene bubbling right now and here's the cream of the crop with artists from Japan, US, Canada, Australia, UK and more. The compilation has 13 big tunes, ranging from more minimalistic 808 jams to vocal cuts and juke music sampling ones, as well as couple or monsters for the big room, anything a trap DJ would need. So consider this the compilation to keep in your sets, you won't regret that. It looks like a movement, it's true motivation and we love it, hope you do too. - TB Team & Hydraulix Tracklist: Hydraulix & Slakk feat. Zuri Akoko - Whole Crew (VIP) Notixx - Okayy Gooffee - Coochie Stega - Tuk Tuk Paul Oja - Perfection Watapachi - B.I.O. (Bust It Open) Illo - Roll It Pour It Starz - Pop It Smookie Illson - Juke In The Box Omeguh - 2CI Spenda C - Stay Fucked Up Kurk Kokane - Pop Yur Pussy Knuckle Children - The Creator (My House) www.facebook.com/topbillinmusic @soundcloud.com/hydraulix-dub @soundcloud.com/notixx @soundcloud.com/gooffee @soundcloud.com/stega-bass @soundcloud.com/pauloja @soundcloud.com/watapachi @soundcloud.com/djillo @soundcloud.com/smookieillson @soundcloud.com/omeguh @soundcloud.com/spenda-c @soundcloud.com/KurkKokane @soundcloud.com/knuckle-children-music Juno Review: "Finnish bass label Top Billin have been on fire for quite a while now. So has the trap genre too, so TB have decided to release a whole album dedicated to this dark side of hip-hop style. Any haters can go take a high one though, because TB have been pushing this sound since day one, so there's no bandwagon jumping here. Highlights of the '12 certified trap bangers' include the Drop It Like It's Hot-isms of "Okayy", the ghetto-distortion of "Bust It Open", the low n sleazy roll of "Juke In Box" and the positively biblical "My House".